Want to watch a film from our collection? Don't have a DVD drive in your laptop or computer? VMR is now circulating DVD drives for seven days at a time from the DVD circulation desk. Borrow one and make it a movie night!
45 Years
Publication Date: 2015
In this exquisitely calibrated film, Charlotte Rampling and Tom Courtenay perform a subtly off-kilter pas de deux as Kate and Geoff, an English couple who, on the eve of an anniversary celebration, find their long marriage shaken by the arrival of a letter to Geoff that unceremoniously collapses his past into their shared present. Director Andrew Haigh carries the tradition of British realist cinema to artful new heights in 45 Years, weaving the momentous into the mundane as the pair go about their daily lives, while the evocatively flat, wintry Norfolk landscape frames their struggle to maintain an increasingly untenable status quo
The Pratt Institute Libraries make available to faculty, students, and staff an extensive film and video collection of over 6,000 unique titles to support teaching and learning through the Visual and Multimedia Resources (VMR) department. The collection of DVDs, VHS tapes, 16mm films, and other assorted formats are available for circulation and viewing on the Lower Level of the Library. Screening rooms are also available through VMR. The collection can be searched in PrattCat, the Library's online catalog. The physical collection is supplemented by a streaming video subscriptions through Alexander Street Press and Kanopy.
Director's Month: Anderson On Streaming
Tokyo Story (by Yasujiro Ozu, 138 mins, 1953)
Wes Anderson's use of careful wide angle shots and symmetric framing evokes the similar stylings of the Japanese filmmaker Yasujiro Ozu. In his masterpiece Tokyo Story, Ozu depicts family anguish and loss with a touch similar to Anderson films such as The Royal Tenenbaums and The Darjeeling Limited.

Summary: A profoundly stirring evocation of elemental humanity and universal heartbreak, Tokyo Story is the crowning achievement of the unparalleled Yasujiro Ozu. The film, which follows an aging couple's journey to visit their grown children in bustling postwar Tokyo, surveys the rich and complex world of family life with the director's customary delicacy and incisive perspective on social mores. Featuring lovely performances from Ozu regulars Chishu Ryu and Setsuko Hara, Tokyo Story plumbs and deepens the director's recurring theme of generational conflict, creating what is without question one of cinema's mightiest masterpieces.
Click photo for video
Director's Month: Anderson on DVD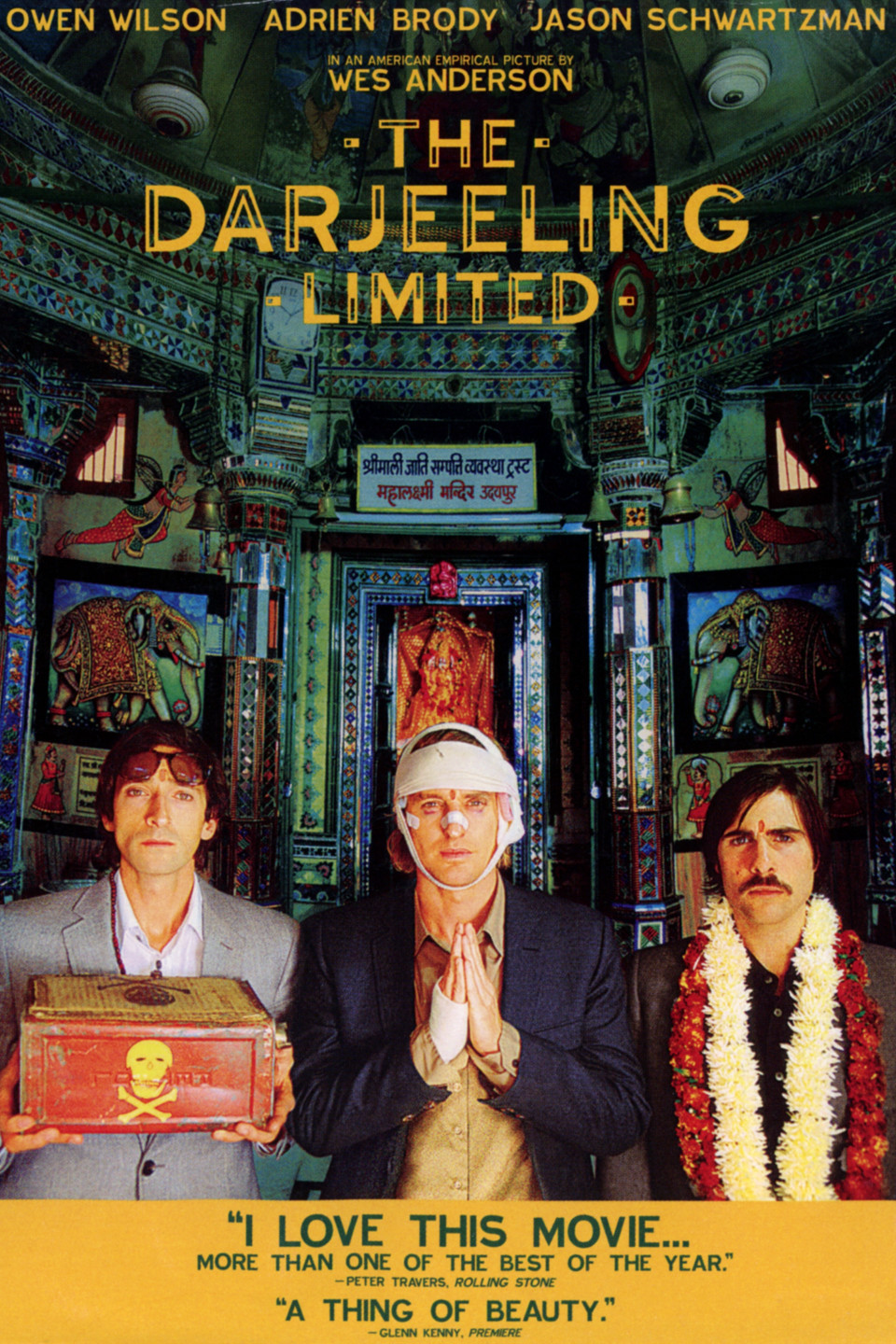 The Darjeeling Limited
Publication Date: 2007
Three American brothers set off on a train voyage across India to find themselves and bond with each other. They find themselves stranded alone in the middle of a desert and a new unplanned journey begins.
The Grand Budapest Hotel
Publication Date: 2014
The adventures of Gustave H, a legendary concierge at a famous European hotel between the wars, and Zero Moustafa, the lobby boy who becomes his most trusted friend. The story involves the theft and recovery of a priceless Renaissance painting and the battle for an enormous family fortune.
Fantastic Mr. Fox
Publication Date: 2009
Mr. and Mrs. Fox live an idyllic home life with their son Ash and visiting young nephew Kristofferson. But after twelve years of quiet domesticity, the bucolic existence proves too much for Mr. Fox's wild animal instincts. Soon he slips back into his old ways as a sneaky chicken thief and in doing so, endangers not only his beloved family, but the whole animal community. Trapped underground without enough food to go around, the animals band together to fight against the evil Farmers who are determined to capture the audacious, fantastic Mr. Fox at any cost. In the end, he uses his natural instincts to save his family and friends.
Director's Month: Anderson on 16mm
Les Mistons (By Francois Truffaut, 18 mins, 1957)
Wes Anderson has spoken on many occasions about the debt his cinematic style owes to the early French New Wave filmmakers like Francois Truffaut. In his first short film, Les Mistons, Truffaut tells the kind of story about adolescence and burgeoning sensuality that would find its way into Anderson films like Rushmore and Moonrise Kingdom.

Summary: Reflects on the awakening of the sensuality, the innocent malice, the unpredictable jealousy, and the unknown desires of adolescence in a story about a gang of boys who decide to hate and torment and older girl because of her affection for her boyfriend.
Visual and Multimedia Resources (VMR)
Contact Info
Pratt Institute Libraries
Library Lower Level
200 Willoughby Avenue
Brooklyn, NY 11205
718-399-4356
video.library@pratt.edu
Administrative Hours: 9-5 M-F
Circulation: See Regular Library Hours
Send Email
VMR collects films and videos relevant to the Pratt community's academic needs, but also to promote the relaxation and intellectual and artistic development of the student body. Members of the Pratt community are encouraged to suggest new titles by emailing video.library@pratt.edu or submitting a request through our online Material Request Form. Preference is given to titles that will be used regularly in classes.